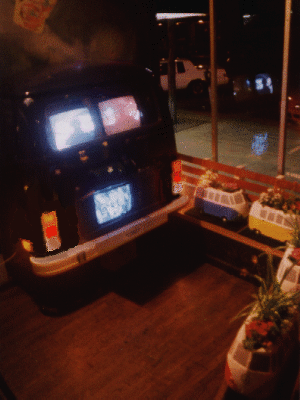 The Virtual VWII

  The Virtual VWII appeared in the
AS220
Open Window in April of 1997. It consisted of the rear end of a 1979 type 2 outfitted with three televisions. The screens seen through the rear window showed footage of the driver and passenger traveling around Rhode Island as seen from the rear seat of the vehicle. The television in the engine compartment showed footage of the engine of one of our beetles running, complete with
roaring engine sounds!
The brake, marker and backup lights were hooked to a flashing unit, so they flashed in sequence. The bus was painted indigo blue and covered with silver stars. Accompaning the bus were four cast concrete bus shaped planters, filled with live blooming flowers.
  This piece now resides in the Trinity Brew Pub in Providence, RI

where it housed a Play Station. Unfortunately, recently we have heard that it has not been maintained in good condition. 

  It was mentioned in the NEATO newsletter in the summer of 1999.